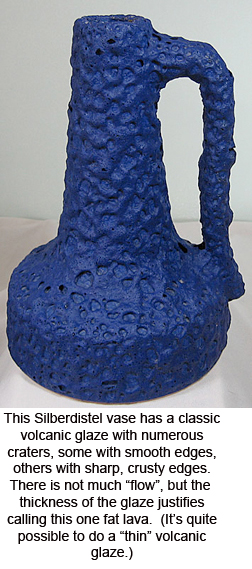 Long before most people had noticed West German pottery, a few German sellers on eBay used the phrase "fat lava" to describe the unusually thick, often flowing glazes on some items. Based on that usage, the term appears to have been a slight mistranslation, shifting "thick" to "fat", with thick meaning depth, or how much the glaze rises above the surface of the clay, not a matter of viscosity.
A few years later, Graham Cooley held an exhibition using fat lava as part of the title, and Mark Hill published the expanded exhibition catalog Fat Lava, which brought the phrase to wider attention, and the phrase was fun enough to catch on, perhaps too well. Soon, people were equating fat lava with all mid century modern German pottery, but the reality is that only a small sub-group fits the term, and many of the finest works are not fat lava at all.
I'm attempting to bring a degree of regularity to the usage by defining some of the terms so we can discuss both the larger category and sub categories with more precision. It's rather tricky because there are a number of terms that can mean different things, and the variety in the glazes is enormous, so please be patient as I sort through the variables.
Drip Glaze
Quite often, a fat lava glaze runs down over another glaze. In broader terms, this is a drip glaze, and it's been used for a long time. In American art pottery, drip glazes are probably best known on Fulper Pottery or some Roseville lines, such as Carnelian. Excellent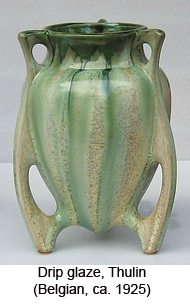 drip glazes were also done by Belgian and French potteries in the early 20th century. On these earlier versions, there is little or no difference in the thicknesses of the top and bottom glazes, so one type of fat lava glaze is a drip glaze, but it's only fat lava if one of the glazes involved is "thick" enough.
Color
Color is in no way involved in whether or not a glaze should be called fat lava. There are many fiery orange and red glazes on mid century German pottery, often suggesting the color of hot lava. Some of these glazes have a flowing or drip quality as well, but it remains thickness that's a defining characteristic. If it's not "fat", it's not fat lava.
On the other hand, there are many "fat" glazes in colors that look nothing like lava, hot or cold. If we start using color as a distinguishing characteristic, then we have to start coming up with so many different names that communication becomes even more difficult than usual. So we're better off calling a thick, flowing white glaze fat lava even when it doesn't quite make sense in some respects. Like so many things, language is based on compromise.
Volcanic Glazes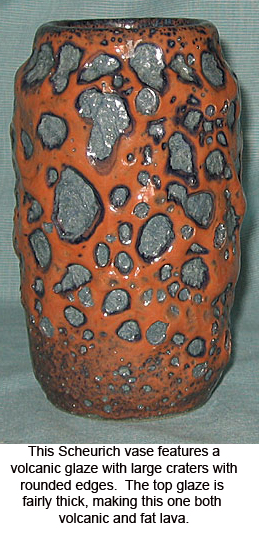 The proper use of certain ingredients can cause controlled (somewhat) gaseous explosions in the glaze, producing holes of different types. These are called volcanic glazes. One of the best known creators of volcanic glazes is Otto Natzler, who came to the US from Austria with his wife Gertrud in 1938. By coming to the US, Natzler was able to continue his glaze experiments at a time when all art was increasing repressed in Germany. As a result of that repression and the war, it was about 1965 before German companies began producing volcanic glazes.
Many of the mid century German volcanic glazes are also quite thick, but it's also possible to make fairly thin volcanic glazes (which describes most of the Natzler glazes). So a volcanic glaze will always be visually suggestive of lava (or the moon), but not all volcanic glazes are fat. The texture of a volcanic glaze can also vary with large or small craters and sharp or smooth edges. Gramann(Töpferei Römhild) made some of the best, flowing fat lava glazes, but they also made many volcanic glazes that are relatively thin with small, tightly controlled craters.

One of the most common uses of volcanic glazes is actually in applied designs, usually with a fairly fine, pumice-like glaze. However, even though these designs are thicker than the primary glaze, the difference is often not very extreme, so whether or not these qualify as fat is variable. Still, since there's no point in trying to establish a precise measurement for at what point a glaze becomes "fat", most of them can probably be called fat lava. Indeed many or most of the items in the first Fat Lava exhibition and catalog were simply fat lava "detailed" with only a small part of the surface covered in the namesake glaze. I expect that we'll eventually establish a sub-category for such items.
Volcanic glazes often have little or no "flow" to them, but given the texture a thick volcanic glaze should certainly qualify as fat lava. In fact, the fat lava volcanic glazes probably significantly outnumber the fat lava drip glazes, and the volcanic is probably the more accurate term, while fat lava happens to be more fun.
Other Considerations
Some companies named glazes "Vulkano" (Volcano) or "Lava", so we need to be careful with our usage and distinguish between official glaze names and the other uses of the words.
Take note that not all fat lava volcanic glazes are German. Also, there are companies that use lava pieces in the glaze or decoration. While in a technical sense these are volcanic and lava, we need to use terms carefully. These probably shouldn't be called fat lava, and the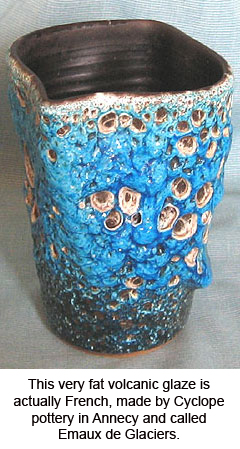 use of volcanic should be made clear in the context of any discussion.
Obviously, my only "authority" for saying what should or shouldn't be called fat lava comes only from observation and experience, and there will always be disagreements about language. Still, I hope this will get people to think about both what they see and what they say and appreciate the value of precision in both. The world opens up in fascinating new ways each time we learn to see a little more clearly and in a little more depth. As many have said before me, the world doesn't really exist until an artist makes us see it, but we have to learn to do some of the work when the art calls to us.
E-Mail Us Now If You Like See Our W. German Pottery For SaleHome Page
Buying, Paying, and Such Things
You may notice that we don't have a checkout where you can just click for your goodies without so much as saying hello. Well, we want people to say hello, ask questions, even hope for a better deal. Long ago, I told stories for 7 hours (free refills on coffee), so "impersonal" just isn't my style. Click on one of those "E-mail" buttons. I can't handle as much coffee as I used to, so the stories will be fewer.
These days, Paypal is about the easiest payment method around, but we still take checks, even cash. No Monopoly money, nothing printed up in your basement, no chickens, etc., but otherwise we're fairly flexible. If we can put it in the bank without anyone getting in a tizzy, we'll probably take it.
Please take time to stroll through the site. Sorry we can't offer you a cup of coffee or tea while you're looking, but maybe you can take care of that yourself. Just don't spill it on the keyboard. And if you run into any questions along the way, there should be an e-mail link on every page, so just click and ask.
Hope you'll enjoy our "sing the body eclectic" approach (with apologies to Walt Whitman). As always, proceeds go to support our creditors, my spouse, our cats, my auction addiction, and the plumbing project that never ends.
Bay, Carstens, Ceramano, and Others
Dümler & Breiden, ES Keramik, Others
Gramann (Töpferei Römhild), Others
Ilkra, Jasba, Jopeko, Karlsruhe, Marzi & Remy, and Others
Otto Keramik
Ruscha, Sawa, Scheurich and Others
Schlossburg, Silberdistel, Steuler, and Others
What's "Gin-For"? Strictly medicinal purposes.