Gin-For's Odditiques
Ginny and Forrest's Oddities and Antiques
East and West German pottery and more for sale, and at Gin-For's Odditiques, you won't find just the usual suspects. We specialize in above average, harder to find items from Bay Keramik, Carstens Tonnieshof, Ceramano, Dümler & Breiden plus Gramann Römhild, Otto Keramik, classic Ruscha, the wide range of Scheurich glazes, Silberdistel and others, fat lava or not.
If you love the large Blenko Glass items, consider W. German pottery floor vases as a ceramic complement to get compliments.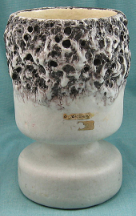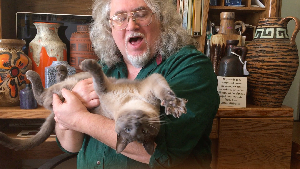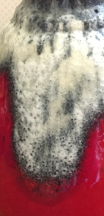 (Cats and batteries not included.)
Blog: News and Views
About Us/Contact Info
E-Mail Us Now
Videos and Essays
Gin-For's Odditiques has been in business since the early 90s and specializing in West German pottery since shortly after. Our guarantee has always been simple. If you aren't happy, we aren't happy. If you buy an item and don't like it, ship it back. You'll get your original cost back, so all you risk is the cost to return the item. If we make a mistake in the description, then we'll pay that cost, too. If you're allergic to cats, we don't guarantee that our packages won't make you sneeze. Things around here are cat tested, cat approved.
West German Pottery For Sale
Bay, Carstens, Ceramano, and Others
Dümler & Breiden, ES Keramik, Others
Gramann (Töpferei Römhild), Others
Ilkra, Jasba, Jopeko, Karlsruhe, Marzi & Remy, and Others
Otto Keramik
Ruscha, Sawa, Scheurich and Others
Schlossburg, Silberdistel, Steuler, and Others
Whether you're looking to buy West German pottery or identify it, this is a great place to start. At Gin-For's Odditiques, we know a Carstens from a Scheurich, and a hawk froma a handsaw, no matter which way the wind is blowing. You'll also find American art pottery, porcelain, Italian pottery, art glass, paintings, prints, and odd finds. Unlike most sites, we also have videos and essays for those who like to learn. Pics below are examples and may or may not be currently available.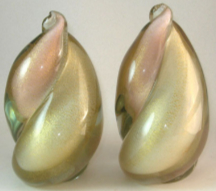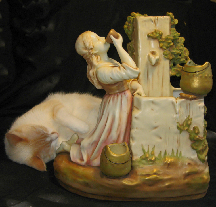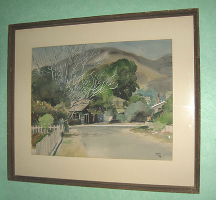 Other Items For Sale
Art Pottery and Porcelain Other Than W. German
Art Glass, Stemware, More Glass
Paintings and Prints
Metalware and Miscellany
Buying, Paying, and Such Things
You may notice that we don't have a checkout where you can just click for your goodies without so much as saying hello. Well, we want people to say hello, ask questions, even hope for a better deal. Long ago, I told stories for 7 hours (free refills on coffee), so "impersonal" just isn't my style. Click on one of those "E-mail" buttons. I can't handle as much coffee as I used to, so the stories will be fewer.
These days, Paypal is about the easiest payment method around, but we still take checks, even cash. No Monopoly money, nothing printed up in your basement, no chickens, etc., but otherwise we're fairly flexible. If we can put it in the bank without anyone getting in a tizzy, we'll probably take it.
Please take time to stroll through the site. Sorry we can't offer you a cup of coffee or tea while you're looking, but maybe you can take care of that yourself. Just don't spill it on the keyboard. And if you run into any questions along the way, there should be an e-mail link on every page, so just click and ask.
Hope you'll enjoy our "sing the body eclectic" approach (with apologies to Walt Whitman). As always, proceeds go to support our creditors, my spouse, our cats, my auction addiction, and the plumbing project that never ends.
8 Things You Need to Know About W. German Pottery (Antique Trader Article)
Meet Our Feline Staff
Links to Other Sites

What's "Gin-For"? Strictly medicinal purposes.