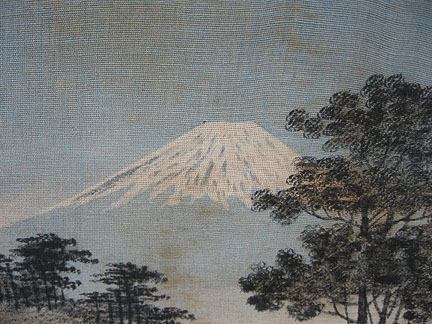 Paint-17 A and 17 B
These Japanese paintings are done on raw silk and clearly have signifcant age. My first guess would be that they date to the 1920s or 30s, but they could be older. Each is pasted on a paper board and identically framed. (one is pictured out of the frame in order to show the backing and clear detail pictures.) You can purchase one or both, and we will ship them with or without the frame. Frame size is about 25 inches x 24 1/2 inches. Visible image is about 20 inches x 19 1/2 inches.
Condition is fair with no tears or holes. However, the acid in the backing has stained both paintings. Restoration would require removing the silk from the backing and replacing that with an acid-free back. That part would probably be no great problem since the paste is likely to be water soluble. However, if any of the paints used are also water soluble, restoration could be difficult or impossible. In that case, it might be possible to counter remaining acid to prevent more darkening, but we can't guarantee that. We haven't tested the paint with water. Of course, all our sales are fully guaranteed with an "if you aren't happy, we aren't happy" money back policy. You can also check our eBay feedback under the seller name ginfor.
Price: To buy either painting, the price is $145, or you can buy both for $250.
Shipping: Shipping will depend on whether or not you want the frames and on location. (More distant parts of the US will fall into the new dimensional rate category for the USPS.) Contact us for a shipping quote.
International shipping rates quoted on request.
Questions? Requests? Comments? Purchase?
To buy an item (or more), just get in touch through the e-mail link, or you can call us at 812-467-0191. It works best if you include the "item" code to let us know which item or items you're interested in. The code is at the beginning of each listing and is usually two letters followed by a number.
We'll confirm that the item is still available, make sure we agree on the total, and answer any questions you wish to throw our way. Checks or money orders should be made "Forrest OR Virginia Poston". We also take Paypal (including credit card payments).
We try to ship in one or two days after payment arrives, and we're generous with the bubblewrap and styrofoam peanuts.
If there's something you'd like us to find for you, let us know. We're just itching to please you, or maybe that was Poison Ivy we got into.
Remember that all proceeds go to support good causes: my spouse, our cats (see the "staff" here), our creditors, my auction addiction, and the plumbing project that never ends.
Head for the homepage.
Back to: Paintings
Art Pottery (American and European art pottery other than mid century items)
Pottery and Porcelain (Figurines, plates, vases, etc.)
Mid-Century Design (Mid Century pottery, currently featuring one of the best selections of studio and W. German pottery in the U.S.)
Mid Century Groupings
Studio Pottery (While many of these items can be found in other categories, they are also gathered here for those with a special interest in studio work.)
Glass (art glass, stemware, EAPG, Depression, Elegant, etc.)
Metalware (Various metal items and misc. vases, inkwells, etc.)
Paintings (oils, watercolors, prints, 19th and 20th century American and European)
Links
Pages About Us

Meet the Gin and the For

Meet the "staff"

The Cor-purr-ate Story (Glyph's Rise to Power)

Contact Information (Phone, etc.)
Essays and Information:
The Art of Attending Auctions: A Beginner's Guide
Site Review: TiffanyFakes.com
Book Review: Fat Lava, West German Ceramics of the 1960s & 70s
Collecting West German Pottery: Thoughts, Philosophy, and History
A Divine and Delightful Madness: An Intro to W. German Pottery
Learning the Basics about West German Pottery (This is the most in depth essay.)
West German Pottery Marks
W. German Companies, Designers, and Studio Potters
West German Picture Gallery and Identification Aid (pictures of items we've had over the last 3 years)
To Buy or Not To
Buy: Going Where Price Guides End (thoughts about collecting, aesthetics, and health)
Get the Picture Straight: The Basics of Selling Glass and Pottery on the Internet (how to write item listings, matters of photography, etc.)
A Tribute to Fractured Fairy Tales (For No Reason But Fun)
E-MAIL US
Ginfor's Odditiques (click to
return "home")
Pedagogy, Philosophy and Nonsense (my "other" site: writing, learning, and odd ideas like long hair and fairy god-princesses)
Please take the time to let us know what you think about the site, the look, the language, photos, items, prices, etc. If you have any questions, comments, or good ideas for conversation, feel free to contact us. There should be e-mail links on every page, and the actual address is ginfor@earthlink.net
Guarantee: We have a simple, "If you aren't happy, we aren't happy" policy. If you open a package and suddenly wonder why you bought it in the first place, you can return it for a full refund of your purchase price and the shipping one way. Your only risk is the cost to ship it back to us. If it turns out that we made a mistake, then we pay the shipping both ways. I won't say "no questions asked" because we will ask so we'll know how to make fewer mistakes.
Payment terms: We try not to be overly picky about the details. If we can put it in the bank and pay some bills without any undo fuss, then we'll probably take it. We're quite happy to take checks and money orders, and we're signed up with Paypal, which is the easiest route if you want to pay by credit card. If you have some other method in mind, get in touch, and we'll see what we can work out. Monopoly money, anything you may have printed in the basement, and chickens are right out.