German Studio Pottery Vase, signed (JT?)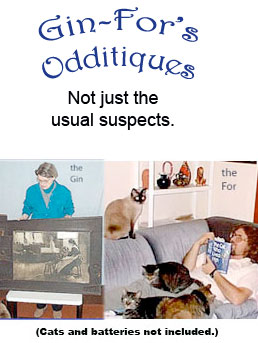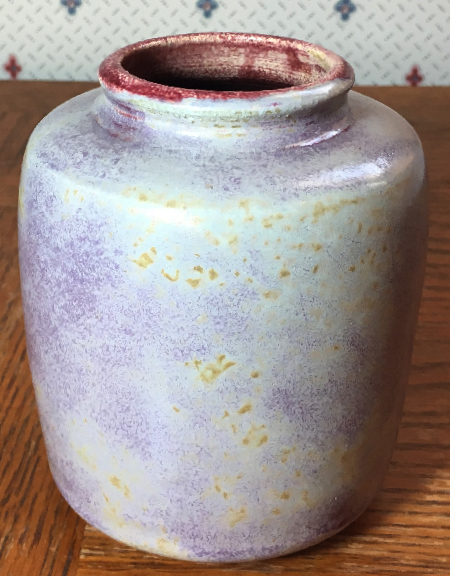 Description: This studio pottery vase is probably German, but the time period is uncertain. The style suggests that it could pre-WWI, Bauhaus era, but it could also be circa 1970. The only way to be certain would be by identifying the signature, but I've had no luck there. One letter is a J (probably), and the other could be a T, an F, or something else. The J is the top letter (last one incised), which suggests that it's the surname.

The vase is handthrown with a soft but quietly complex glaze and a fairly light weight.

Dimensions: Height is about 4 1/2".



Form

: None

Company/Artist: Signed but unknown

Decor/Glaze: Unknown

Estimated Date: Unknown

Condition: is excellent with no damage and no repairs, but there is crazing.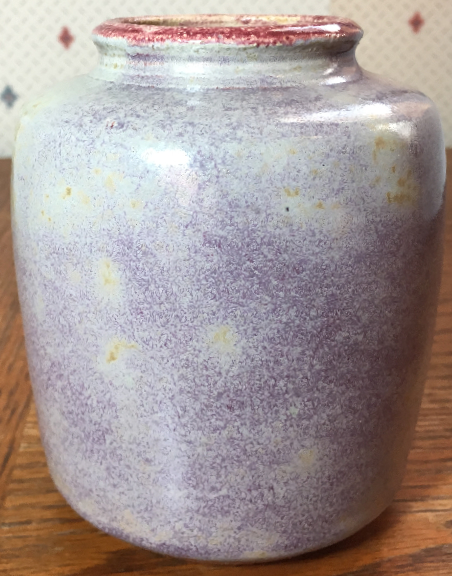 Price: $75 plus shipping and insurance.

Shipping: $8.45 for Priority Mail and insurance within the US. For international shipping, contact us for a quote.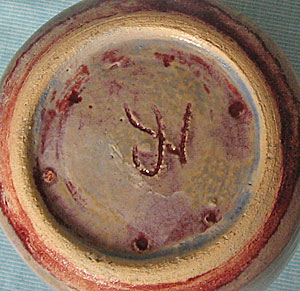 Guarantee: Our guarantee is a fairly simple one. When you get the package, if you don't like the item, send it back. We'll refund the original price and original shipping charge. The only part you're risking is the cost to return it. And if we made an important mistake in the description, we'll cover the return shipping as well. (Saying something is 12" tall when it's really 10" counts as an "important" mistake. A spelling error does not.)

Mostly, we do things this way because we think it's the right thing to do, but we're also fully aware that a happy customer is more likely to be a repeat customer and tell friends about this great site they found.

Payment: First of all, we like getting paid. It really does make everything run more smoothly, so we try to be as flexible as we can. Essentially, if we can put it in the bank without breaking any laws, we'll probably take it. So checks that won't bounce are fine. We're only set up to take credit cards through Paypal unless you want to buy through our Etsy site. (For international sales, Paypal is easiest for us, but we'll listen if you have another preference.)

We even take cash if it's not from a Monopoly set or freshly printed in your basement. Sorry, but we don't take chickens. If you have any questions about payment methods, just get in touch.


To buy an item (or more), just e-mail us, or you can call us at 812-467-0191.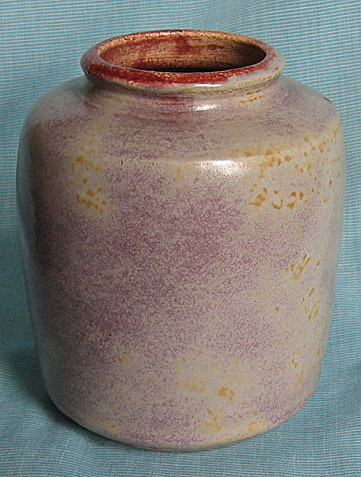 We'll confirm that the item is still available, make sure we agree on the total, and answer any questions you wish to throw our way. Checks or money orders should be made "Forrest OR Virginia Poston". We also take Paypal (including credit card payments).

We try to ship in one or two days after payment arrives, and we're generous with the bubblewrap and styrofoam peanuts.
If there's something you'd like us to find for you, let us know. We're just itching to please you, or maybe that was poison ivy we got into.
Remember that all proceeds go to support good causes: my spouse, our cats (see the "staff" here), our creditors, my auction addiction, and the plumbing project that never ends.


Back to West German Pottery Page Five


Send us an E-mail

Go to the Home Page